Welcome to Bayport Marina – The Marina That Thinks It's a Resort!
Located at mile marker 19.1 on the beautiful and historic St. Croix River, Bayport Marina Association (BMA) is a multi-award winning marina that offers a resort atmosphere with a calm, protected harbor, premier amenities, an on-site restaurant, and year-round service and canvas departments for your every boating need.
BMA is a member-owned marina, offering 32′-70′ slips for purchase or lease, as well as overnight transient dockage for any size boat. Our Fuel Dock and "Boatique" features ValvTect treated fuels, fun seasonal apparel, and plenty of convenience items so you can spend more time out on the river.
We are known as "The Marina That Thinks It's a Resort!" for our luxurious amenities, courteous staff, manicured grounds, family-friendly community atmosphere, and many boating options, making BMA the best marina in the Midwest. Boaters make BMA their home away from home and we encourage you to do the same! Take a virtual tour, a flyover drone tour, or give us a call (651.439.2040) today and we can give you a tour in person of our beautiful marina!
Now featuring an on-site Canvas Department and Certified Master Fabric Craftsman! "If you've got it, we can cover it!"
Bayport Marina's Mission Statement: Bayport Marina strives to be the best quality Marina in the Midwest by providing the finest full-service facilities and professional and courteous service to our membership and customers.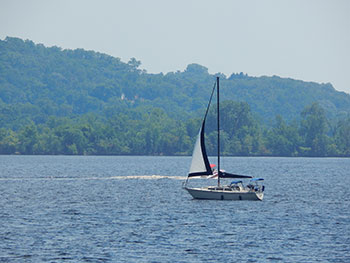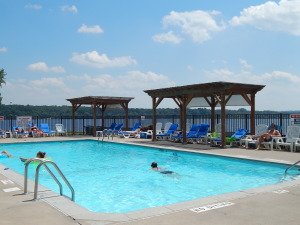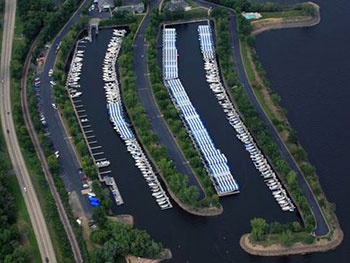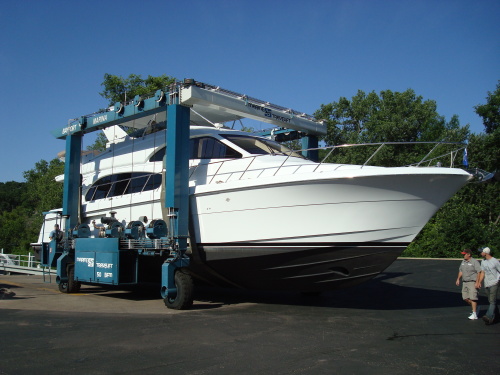 Boater Testimonials
"Best investment I've ever made!"

"Thank you so much for allowing us to have the big event at the marina. It went well and meant a lot to the girls and parents. The facility is first class and everyone was impressed."

"Your Fuel Dock staff is to be commended, I loved working with them when I stopped by! They were so pleasant and courteous."

"We've really enjoyed our time at Bayport and have appreciated your help getting assimilated."

"A big big thanks to all of you at the Bayport Marina.

Simply put, we could not have accomplish or continue to provide the degree of service we have without the support you have given Let's Go Fishing!

Thanks again from all of us at Let's Go Fishing."

"We are LOVING the marina so far! We are so glad that we made the switch to Bayport."

"Excellent Marina! How could you not like this marina."

"We enjoyed your facilities and staff were top notch. Thank you!"

"(We) really appreciate what you've done for the marina and what you have done for us over the years. You have made Bayport Marina a very warm and welcoming environment. One we really do not want to give up. Please sign us up for (the next season)!"

"We are really enjoying being at Bayport! You guys run a tight ship compared to our previous experiences!"

"They always answer the phone. The service department is top notch. The people who work there are friendly, the other boaters are friendly… What more can you ask for?"

"The renovated docks are SO nice – it's a game changer! They are worthy of a national boating magazine. I've been to all the marinas between here and Wabasha, MN and there is absolutely no comparison!"

"Your canvas guy is the BEST in the midwest! He entirely rebuilt my boat's canvas (it leaked like a sieve straight from the factory) and did an excellent job."

"I'm VERY impressed with the marina!"

"Once we made the decision to have an entire camper top made for our 48' Sea Ray Sundancer… Tom Matson of Bayport Marina (Canvas Department) was our first choice hands down. We are both perfectionists to a fault and expect no less when it comes to service of any kind. Tom not only "met" our expectations, but FAR EXCEEDED them. We hadn't seen craftsmanship of that caliber in many years. He only uses the finest metals, canvas and thread materials for maximum longevity. We are beyond impressed and amazed at how this large undertaking turned out. This gentleman has been sewing since he was 12 years old and treated our boat as if it were his own. We highly, highly recommend Tom Matson at Bayport Marina for any canvas needs, large or small. Thank you very much Tom for the best thing that ever happened to our boat!"

"I really enjoyed Tom's (custom canvas) service and skill in this project. I couldn't be happier with the addition to my boat but in also having a top notch professional available at our Bayport Marina for custom work!"

"Just having completed a canvas and fiberglass upfit on our boat, we could not be happier, and want to share our experience.

The service, fit, and finish from your craftsmen in your canvas and fiberglass shop are truly world class.

The level of service from Tom and Jason, and everyone involved from the GM, the Service Manager, through the shipyard team starting from pull-out, and continuing through completion, exceeds all of our expectations.

We are so happy with the results.

Thank you to the entire team at Bayport Marina for doing such a super job, and helping us to bring our dream into reality."

"Loved the pool, food, and entertainment…! Great showers and accommodations. The views are spectacular!"

"Your facility is stellar!"

"Great upscale Marina, Pool, Maintenance and Gas Dock. Transient Slips available. Great family atmosphere, park-like setting."

"We have used this marina as a transient over several years. Overall is an excellent facility. There is now a good restaurant, Mallards."

"2015 Boater's Choice Award Winner as Voted by Members and Visitors of Marinas.com!"

"2016 Boater's Choice Award Winner as Voted by Members and Visitors of Marinas.com!"

"Your Service Manager is the best I've ever dealt with!"

"Thanks again for the awesome season, we love telling people about how great Bayport Marina is to both members and guests."

"We absolutely want to stay at BMA for the (next) season. BMA and its residents are top-notch!"

"Thank you for helping me renew my slip contract, my kids would have been DEVASTATED if we had to go elsewhere!"

"Nice facilities. Protected harbor. Boat launch for members."

"This place is run SO well! I work with Mike (BMA's Service Manager) a lot and he's always on top of everything. That's why I want to stay (and ultimately buy a slip) here!"

"You are to be congratulated! Your marina is just phenomenal. Your grounds are absolutely perfect. Everything is 5-stars!"

"You've got a good team here! Mike (BMA's Service Manager) and his crew did a perfect job and they did it really fast."

"This is the best view on the river ~ it's beautiful!"

"Tom Matson (in the BMA Canvas Department) is the most talented individual. His work for us was just phenomenal!"

"Great staff, great people, great fun!"

"It's a five-star Marina! We have owned at other marinas, but we are here to stay!"

"I was looking for a new place to stay overnight as a Transient. I asked my boating friends and everyone said Bayport Marina was the best because of the on-site restaurant and heated pool!"

"You're our terminus – staying here is what we look forward to all year every year. You have superb people, your service staff and Mike are excellent, and your new docks are just beautiful!"

Our boat girl rocked. Thank you. We will definitely be back.

"Best marina, it's like a resort!"

"Thank you for taking such great care of my boat!"

"Just a short note to inform you how absolutely awesome we were treated by your gas dock staff. We spent July 2-5 at the marina in a guest slip and had various needs and interactions from the gas dock staff. During our stay, EVERYONE treated us with the utmost courtesy and respect. It was an absolute treat to converse with such a fantastic group of young people. You have done a wonderful job with the hiring and training process! Please extend our gratitude to the "kids". We'll be back of course!"

"We just love to stay at your marina – we actually got married on our boat there! It's our special place."
Some of our awards and recognitions include: