Full-Service Fuel Dock
SPACE
Contact our Fuel Dock Directly: 651.439.1044
Hail the Fuel Dock by Radio: Chanel 16
SP
Hours of Operation:
Closed for the season. See you next year!
If you need further assistance, please call our Marina Office: 651.439.2040
Welcome to our Fuel Dock and "Boatique!" We are so happy you stopped by, please let our friendly staff know if there is anything we can do for you! Our fuel dock will provide you with all your refueling, sanitary and fresh water needs. We also offer ValvTect ethanol-free gasoline and diesel.
We carry a wide variety of drinks, ice, snacks, maps, sunglasses, hats, limited edition Bayport Marina Association apparel (T-shirts, jackets, swim trunks, sweaters, etc.), original artwork, and MORE!
Stop by for a warm cup of coffee or hot chocolate from our Keurig coffee maker!
Do you have a dog? We have treats! We keep a jar of dog biscuits at the Fuel Dock – just let us know your little buddy would like a snack!
We are a Full-Service Fuel Dock offering:
Valvtect 89 Octane Premium Fuel
Valvtect Diesel Fuel
Pump Out Service
Boating Supplies
SPACE
Transient Slips
Now OPEN for 2018 & Taking Reservations!
Transient Reservations: We would love to have you stay with us! We accept Transient reservations from April – October. Please call or use the "Book Now" button below to be taken to Dockwa's excellent marina booking service!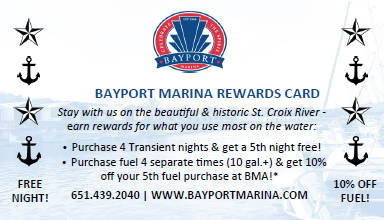 Ask about our Bayport Marina Rewards Card – the deals are even better for 2018, including a FREE Transient night or 10% off fuel!! Call us for information: 651.439.1044 or ask for your FREE Rewards Card when you stop in.